About Us
Our Profile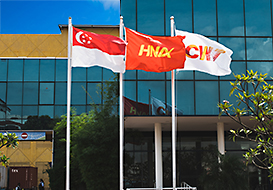 Established in 1983, CWT Commodity Logistics Pte Ltd specializes in the storage and handling of soft and hard commodities through the provision of warehouse management services. The company offers its services to international traders, producers and trade & commodity finance banks. It has an elaborate network of offices and presence in Asia, Europe, the Middle East and Africa.
CWT Commodity Logistics is a wholly-owned subsidiary of CWT Pte. Limited, a global leading provider of integrated commodity services which was established in 1970. CWT Pte. Limited is a wholly-owned subsidiary of CWT International Limited (HKEX: 521). Together with CWT Pte. Limited's subsidiaries ("CWT Group"), CWT Group is a global leader in integrated supply chain solutions with its main focus on commodity marketing, supported by financial services and integrated logistics platforms. For more information about CWT Pte. Limited, visit www.cwtlimited.com
CWT Commodity Logistics has access to the entire range of services of CWT Group in order to be able to provide its clients with a full range of logistic solutions.
CWT Commodity Logistics Pte Ltd is a prominent player in LME warehousing operations in Asia, Europe and the Middle East. In addition, it has established itself as one of the leading providers of Inventory Management Services in Asia. Through its subsidiary CWT Europe, CWT Commodity Logistics offers a wide range of logistics services for soft commodities in Europe and Africa and is ICE approved for the storage of cocoa beans and coffee.